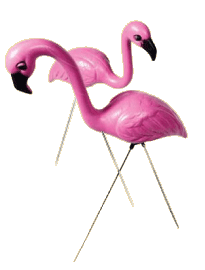 What are Flamingo Fridays?
It all started with a simple idea. Unwind after the week and party with friends and neighbors. Each Monday, the hosting family puts out our stylish plastic flamingos on their lawn. This signifies that they will host the Flamingo Friday Party that Friday night.
What do I need to do?
You bring yourself and your beverage of choice. Your host will provide cups, ice, appetizers and light snacks. While not required or expected, you are welcom to bring snacks or your favorite covered dish to share.
Who's invited?
Everyone in our neighborhood is welcome. This is not just a "kids" thing, so please come with kids or not! Bring a friend. There is no need to RSVP…simply show up!
P.S. We hope to see you there! If you can't make it, it's not a problem. just join in another day when you can. If you can make it, don't be shy. Neighborliness doesn't just happen. Come on out to meet and mingle with your neighbors.
If you are interested in hosting a Flamingo Friday, the only rules are that you provide access to a bathroom, offer some light snacks and welcome your neighbors of all ages and sizes! The flamingos will be passed from host to host accordingly! Please contact Bill McShea (please use the neighborhood directory for his contact information) if you are interested in hosting.
Organized by your neighbors along Hampton Avenue, Pinckney Street, Lloyd Street, Butler Avenue & Asbury Avenue.